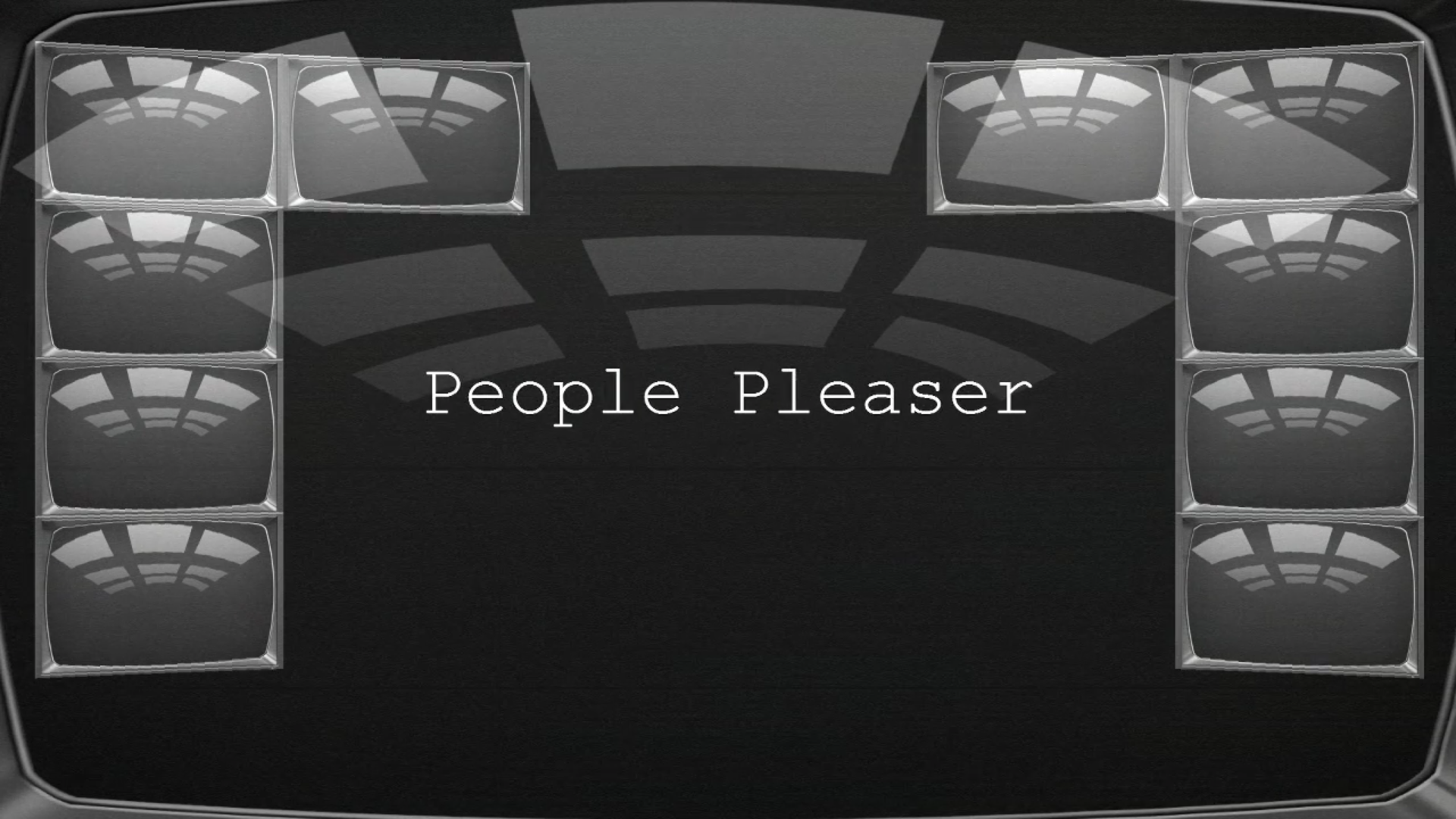 People Pleaser
A downloadable game for Windows
"Completely unable to understand what I'm supposed to be doing." -IGMC Judge

"The hardest part of this game is figuring out how to play it." -Everyone that has ever played it.

"Every time I try to play it, I lose." -Lead Developer

Don't worry, it isn't just you. Saunter onto a screen with a game that received 0 out of 100 in the Indie Game Maker Contest (IGMC) of 2015.
The first challenge is figuring out how to play.

People Pleaser is a niche experience (experiment) based on the concept "you can't please everybody." Originally designed in 1 month for the IGMC by a small team of artists and voice actors (amateur and up), People Pleaser puts you in a conversation with 10 people at a time, and gives you 10 global responses for 10 rounds. When you give an answer it affects every person in play by increasing or decreasing your favor with them. Run out of favor, and they will lose interest in you (Or die. Or kill someone else. Or never find their toy cars. Or get an abortion. Or think that purple hats are okay.)

Designed around the idea that someone can have a story-driven experience in only a few minutes (15 to 20 optimally), People Pleaser presents you with 10 different stories at once, and lets you decide which you will pursue.
Who will you answer? Who will you neglect? How does this thing even work?

Find out more by living and stuff, and maybe slightly kinda by trying out People Pleaser.

Thank you, -Dev Tobwa
Developers Note: The lunch project
Ever since that hot summer all-nighter we pulled to finish this thing by the deadline, it has long been my goal to take the 13 voice actors, sound guy, and video guy out to lunch in celebration.
This game is free. It is weird, and different, and creative, and should be free.
But, if you play it, and you like it, and you feel like lunch is the thing, then please feel free to donate.
If I receive donations beyond the lunch threshold, they will go toward my next creative endeavors.

Download
Click download now to get access to the following files: